CLASSIC TRIP
Kicking Horse River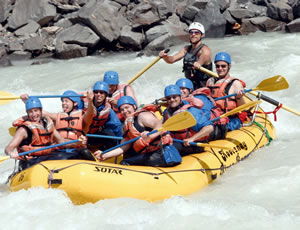 This rafting trip, covering a distance of 20 km, starts at our Kicking Horse River Basecamp located just west of Yoho National Park Boundary, 24 km east of Golden. The Basecamp and Kicking Horse River Rafting is easily accessible from Calgary, Banff, Lake Louise, Golden, Radium Hot Springs Fairmont Hot Springs and Invermere. (See Location for directions).
We know changing in the dirt is absolutely no fun which is why we built our fabulous base camp, complete with changing facilities and a wooden BBQ pavilion.
In the upper and middle canyons,the rafting starts out slowly, then picks up until you're getting drenched in continuous class III to IV rapids .You won't forget rafting Portage, Shotgun, Last Waltz and all the other amazing rafting along the way. It's a great trip for the first time rafter or the seasoned veteran, and it's one of the best family rafting trips in BC.
Classic + Lower = Ultimate
Kicking Horse River
Rafting every rapid the Kicking Horse has to offer equals the Ultimate Kicking Horse rafting trip! Add on the Lower Canyon section to the noon Classic trip. It takes approximately another 1.5 hours to raft this section (time includes portage by road, etc.). This trip ends near the town of Golden, and we drive you back to the Base Camp afterwards.
If we are unable to run the Ultimate trip due to high water levels, we will do a Double Whitewater trip whereby we re-run the continuous Class III and IV section of the middle canyon giving you another round on ultimate whitewater!
Book Ultimate Trip
A Trip on the Kicking Horse River
Upon arrival you will be greeted by our guides at our private launch site on the shores of the river. Once you've finished all your paperwork it's time for our famous Whitewater Barbecue Lunch in our new log pavilion. Then it's time to get down to business. There will be an informative and entertaining safety talk to prepare you for your day of rafting and to explain how to use your gear.
Your spectacular day on the river begins in the Upper Kicking Horse where there's time to practice all the commands that your guide will teach you. The river flows gently at first, giving each guide time to know his crew, and the crew time to get comfortable in the raft.
Waves build as the canyon begins to narrow, and the rapids of the mighty Middle Kicking Horse River begin. Your twenty kilometer trip will serve up whitewater from Class II to IV! Rapids like Portage, Shotgun, Roller Coaster, Twin Towers and Last Waltz are what make the Kicking Horse the best whitewater trip in the Rockies. And with experienced and talented guides at the helm of each boat you will ride the exciting whitewater and feel the power of the mighty Kicking Horse River!
Kicking Horse White Water Barbeque
We serve lunch after the 9:30 trip returns to the Base Camp while the noon trip begins with the barbecue lunch first, followed by the rafting. Kick back and enjoy a delicious barbecue steak in the comfort of our large covered "deck with a view" and soak in the majestic skyline of Yoho National Park. (Vegetarian alternative available.) Or you can skip lunch and meet us at 12:30 before the afternoon rafting trip starts. It's your choice!
We Provide
PDF
Wet Suits
Fleece Sweaters on cold days
Spray Jackets
Helmets
River Shoes
Licensed Professional Guides
Professional Photographer
On-Site Private Facility (Kicking Horse Base Camp)
Please DO NOT Bring
Jewlery & Valuables
Cameras (unless waterproof)
Safety and Experience Count!
At Kootenay River Runners our focus is safety and quality, and our record speaks for us. Our guides come back year after year. They are Trip Leaders with years of white water experience, and they are all certified in swift water rescue and wilderness first aid. They are knowledgeable about the area and are passionate about what they do. We know that they well make your river experience unforgettable.
WE'RE FAMOUS!
Kootenay River Runners made the first descent of the Kicking Horse river in 1980 (See the Golden Star, Wednesday May 21, 1980) and we knew we were on to something great! Since that day we have taken over 200,000 people down the Kicking Horse River, and thousands more on our other rivers. Spend a day with us and you'll understand what makes us so passionate about our jobs! Spend a day with us and we're sure you'll be back again for more white water thrills!
Click here for FAQ's on the Kicking Horse River
Did you know?
Daryl, the owner of Kootenay River Runners, was the first person to white water raft down the Kicking Horse River in May of 1980.