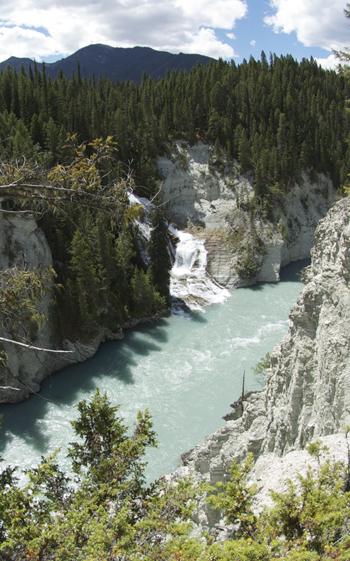 Staying in Banff and looking for whitewater rafting close to town? We suggest whitewater rafting on the mighty Kicking Horse River or family style rafting on the Kootenay River near Radium Hot Springs.
Kootenay River Runners, the folks who introduced Rafting in the Rockies in 1976, offer a variety of river trips, and two of "our" rivers are easily accessible from the Banff and Lake Louise corridor.
Straight west on Highway #1, only 1 hourand 15 minutes from Banff and just 45 minutes from Lake Louise, we offer rafting the mighty Kicking Horse River. Renowned for superior white water, the Kicking Horse is by far the best white water trip in the Rockies. Our trips meet and depart from our fully serviced facility Basecamp. It's easy to get to from the Banff area and the perfect starting point for this ultimate white water adventure. Junior rafters need to be 12 years of age and weigh in at 90 pounds to qualify. The entire trip takes about 4 hours, so you'll be back in Banff in plenty of time for dinner.
The Kootenay is a delightful class 2-3 rafting river, perfect for families with younger children (our minimum age requirement is 5 years), or for rafters looking to emerge themselves in the remote Rocky Mountain Wilderness. If you have junior rafters younger than 12, or want a less rambunctious trip through supreme Rocky Mountain wilderness we suggest rafting the Kootenay River. The Kootenay trips leave from Radium Hot Springs, a scenic 1.5 hour drive from Banff or Lake Louise.
Complete your day with a soak and swim at the Radium Hot Springs ( not the town), located just a few km from our office. And for the grande finale, you'll be heading back to Banff in the early evening; the very best time for viewing the abundant wildlife of the Banff and Kootenay National Parks!
You can have it all. Enjoy the amenities of the Banff area and spend a day rafting the Kootenay or Kicking Horse Rivers! Call or email for more details.