Toby Creek is born from high alpine glaciers capping the Purcell Mountains. It carves a turquoise ribbon through mountain wilderness and steep canyons as it rushes downstream to join the Columbia River.This classic whitewater rafting adventure offers thrills and excitement through the twists and turns of the class II-III rafting section. This is a great trip for the first time whitewater rafters or the seasoned professional. Trip length approximately 2 hours.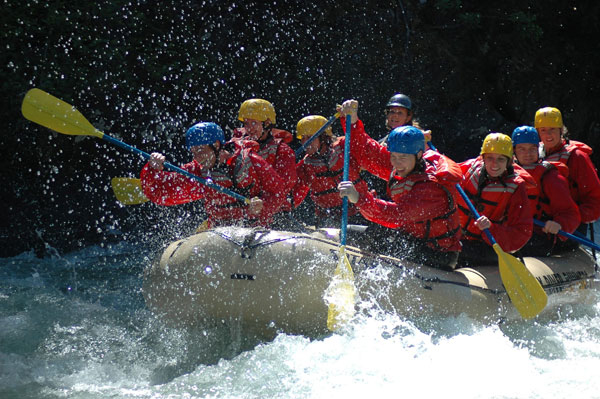 We offer Toby Creek rafting trips at 10am, 1pm and at 4pm everyday (minimum numbers are required). Toby Creek trips meet at the Adventure Centre in Panorama Mountain Resort, just 30 minutes west of Invermere, B.C. If you are coming for a whitewater rafting trip from Fairmont Hot Springs, enjoy the stunning drive about 45 minutes door to door! Please arrive 20 min prior to your trip!
WE'RE ON MOUNTAIN TIME HERE – THE SAME TIME AS ALBERTA
Kids: 8 – 14 years of age

Imagine a place… where families discover a life outdoors, where adventure seekers test their limits, where you're at home in the mountains. You've arrived at Panorama Mountain Village and the name says it all. After settling in, your kids discover their playground with new friends at Adventure Camp. You take a leisurely stroll along the Valley Trail enjoying a cooling breeze and the spectacular View of 1000 Peaks. And whitewater river rafting on Toby Creek is right in your backyard!
We Provide
PFD
Wet Suits
Spray Jackets
Helmets
River Shoes
Licensed Professional Guides
Professional Photographer
Change Rooms
Please Bring
Bathing Suit
Towel
Fleece Sweaters on cold days
Please DO NOT Bring
Jewlery & Valuables
Cameras (unless waterproof)

Safety and Experience Count!
At Kootenay River Runners our focus is safety and quality, and our record speaks for us. Our guides come back year after year and they are all certified in swift water rescue and wilderness first aid. They are knowledgeable about the area and are passionate about what they do. We know that they well make your river experience unforgettable.