CLASSIC TRIP on the Kicking Horse river
The Best White Water Rafting trip in Alberta or British Columbia! The Kicking Horse River is perfect for those adrenaline junkies! Covering a distance of 22 km, the Kicking Horse River offers the wildest whitewater ride in the Canadian Rockies.  The Kicking Horse River drops about 50 feet every km and we are in for all the thrills and chills along the way. The trip starts at our Kicking Horse River Basecamp located just west of Yoho National Park Boundary, 24 km east of Golden, British Columbia. We offer rafting trips every day at 12pm and also at 9am on Saturdays.
Please arrive 20min prior to your trip at our basecamp.
(See directions to Kicking Horse river basecamp).
The Kootenay River Runners Basecamp and our Kicking Horse River Rafting is easily accessible from Calgary, Banff, Lake Louise, Golden, Radium Hot Springs, Fairmont Hot Springs and Invermere.
In the upper canyon, the rafting starts out slowly, then picks up until you're getting drenched in continuous class III to IV+ rapids. You won't forget rafting Portage, Shotgun, Last Waltz and all the other amazing rapids along the way. It is the best rafting trip in BC and Alberta for those outdoor adventurers and action seekers.
Upper Canyon + Middle Canyon Twice = Ultimate Trip
Rafting 32 km of amazing white water on every rapid the Kicking Horse has to offer equals the Ultimate Kicking Horse rafting trip! We are currently unable to raft the Lower Canon of the Kicking Horse river therefore we will do a Double Whitewater trip whereby we re-run the continuous Class III and IV+ section of the middle canyon giving you another round on Ultimate whitewater! It takes approximately another 2.5 hours to raft this section, giving you lot's of time to play in the rapids.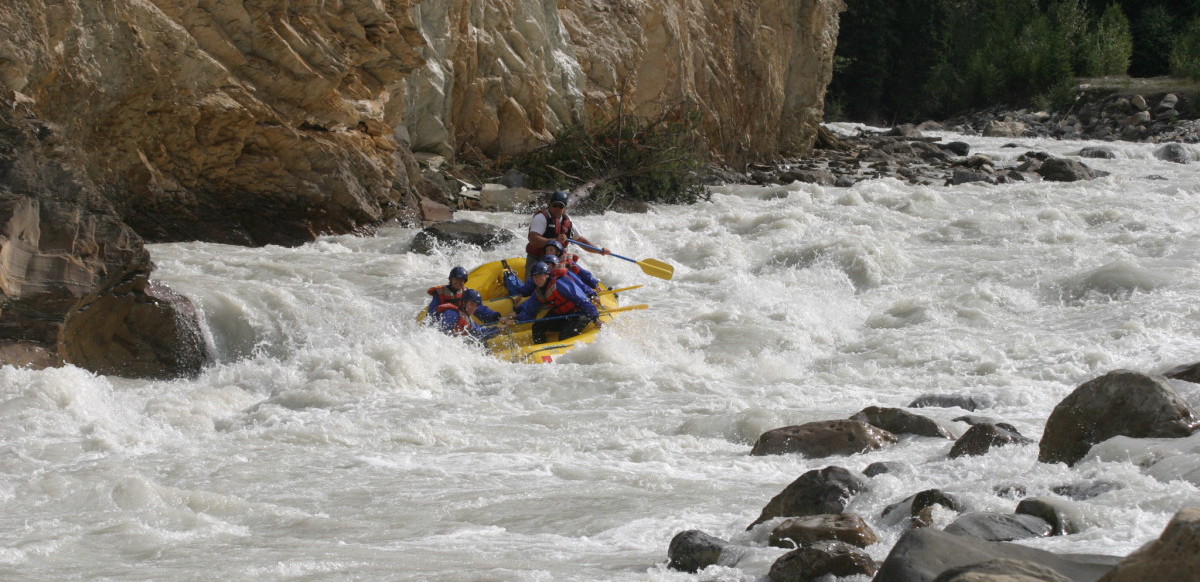 White Water Trips on the Kicking Horse River with a delicious Barbecue Lunch
Upon arrival you will be greeted by our guides at our private launch site on the shores of the river. We serve lunch right at noon prior to your rafting adventure or if you are going at 9:00am upon your return. Kick back and enjoy a delicious barbecue steak, BBQ chicken or veggie option in the comfort of our large covered "deck with a view" and soak in the majestic skyline of Yoho National Park.  Or you can skip lunch but everyone should still be at our basecamp for 11:45am (or 8:45am on Saturday morning trips).
Your spectacular day on the river begins in the Upper Kicking Horse where there's time to practice all the commands that your guide will teach you. The river flows gently at first, giving each guide time to know his crew, and the crew time to get comfortable in the raft.
Waves build as the canyons begins to narrow, and the rapids of the mighty Upper Canyon on the Kicking Horse River begin. Your 22km trip will serve up whitewater from Class II to IV! Rapids like Portage, Shotgun, Roller Coaster, Twin Towers and Last Waltz are what make the Kicking Horse the best whitewater trip in the Rockies. And with experienced and talented guides at the helm of each boat you will ride the exciting whitewater and feel the power of the mighty Kicking Horse River!
We Provide
Waivers
Wet Suits
Fleece Sweaters on cold days
Spray Jackets
Helmets
River Shoes
Licensed Professional Guides
Professional Photographer
On-Site Private Facility (Kicking Horse Basecamp)
Please DO NOT Bring
Jewellery & Valuables
Cameras (unless waterproof)
Safety and Experience Count!
At Kootenay River Runners our focus is safety and quality. As the original white water rafting company on the Kicking Horse River we pride ourselves on small personalized trips so our guests experience this amazing river and scenery without feeling rushed.  Our guides come back year after year, they are all Trip Leaders with years of white water rafting experience in Canada and around the world. Our guides are all certified in swift water rescue and wilderness first aid. They are knowledgeable about the area and are passionate about what they do. We know that they will make your river experience unforgettable! Kootenay River Runners also provides the most up to date gear for all our guests, as well as the best rafts on the Kicking Horse River with brand new Sotars arriving this 2017 spring.
Click here for FAQ's on the Kicking Horse River
Free Camping with your White Water Adventure
Our guest have the option of camping for free at our beautiful Kicking Horse River basecamp the night prior to their rafting adventure. This package is offered exclusively to our rafting guests. Our Kicking Horse trips start right at the Basecamp, so sleeping in is a definite option! For supplies or a night out, Golden, British Columbia is just 15 minutes away. Our Basecamp gives you easy access to Yoho National Park and Banff National Park as well as Lake Louise and Banff, Alberta.